Minislots is a slot that is available in all of our games in the lower right side.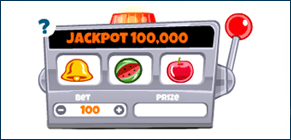 Through them you can multiply the coins you bet as you like to get many more coins and have fun in the games.
What to do?
Select your bet by pressing the "+" or "-", hit the Spin button and be lucky to win the prizes!
To see the paytable hit the "Help" button located above the minislots SPIN button that will inform you about the great prizes you can win.
If what you want is a big slot, feel free to join our Restaurant Slots game and find out how you can enjoy the classic slot including a super restaurant with prizes and recipes that will make your mouth water.